SNP's Neo Geo Aes Games Sale
Verkaufe hier ein paar spiele meiner Sammlung, da ich seit Jahren kein Neo Geo mehr gezockt habe,
und mir denke das andere daran wohl mehr Freude haben werden als ich.
EU/US:
Burning Fight okay/gespielt
265,-€
245,-€ *VERTKAUFT*
Garou MOTW gut/sehr gut
3300,-€
3100,-€ *VERTKAUFT*
Robo Army Okay/gespielt 430,-€ *VERTKAUFT*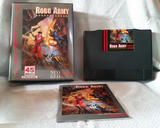 JAP:
King of Fighters 2001 gut/sehr gut
250,-€
230,-€
King of Fighters 2002 gut/sehr gut
430,-€
410,-€
+ Porto evtl. ist ja was für den einen oder anderen dabei .
The post was edited 22 times, last by SNP: Auf wunsch bei zwei games Rückseiten Fotos hinzugefügt ().