Sea of Thieves - frischer Wind mit Verbesserungspotential
Es gibt Studios, die sind seit vielen Jahren in aller Munde. Hierzu gehört sicherlich RARE, deren Geschichte mitzuverfolgen teils so spannend ist, wie ein Spiel selbst. Mit Sea of Thieves möchten uns diese nun in ein Piraten MMO der besonderen Art entführen. Bereits die Betatests zeigten hier viel Licht, aber auch Schatten auf. So verbrachte ich die letzten Tage viel auf See, um zu schauen, was in der finalen Version, auf uns wartet.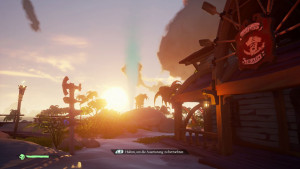 Ahoi Matrosen! Ihr wolltet schon seit Kindheitstagen als Pirat um die Welt segeln? Vielleicht habt ihr diesen Reiz sogar schon bei Assassins´s Creed: Black Flag ausgelebt? Sea of Thieves schlägt in einigen Bereichen in diese Kerbe, bietet hier aber noch einig komplett neuartige Punkte, nicht nur im MMO Sektor. So ist das Gameplay davon abhängig, mit wie vielen Personen ihr das Spiel angehen möchtet. Ob allein oder zu zweit auf einer kleinen Schaluppe oder mit drei bzw. vier Piraten auf einer großen Galeone. Glaubt nicht, dass mehr Leute, weniger Arbeit bedeuten, denn euer Schiff möchte "von Hand" gesteuert werden. Das bedeutet neben dem Kurs am Tisch zu in Aufträgen erwähnten oder gezeichneten Karten die teils auch mehrstufige Worträtsel enthalten können, das Ruder übernehmen, den Anker lichten, die Segel auf voll oder halb zu setzen und diese im Wind auszurichten. Hinzu kommt das Bestücken und Abfeuern der Kanonen, auf Wunsch auch mit euch selbst als Inhalt, etwaige Löcher im Rumpf stopfen und viel Wasser schleppen, damit euer Kahn nach einer Schlacht, einem Riff oder hartem Seegang nicht absäuft. Nicht zu vergessen natürlich das Besorgen von Proviant in Form von Bananen, Holzbrettern und Kanonenkugeln. Klingt trotzdem nach Spaß? Ok, RARE legt noch giftige Schlangen, viele Skelette, welche die unzähligen versteckten Schatztruhen beschützen und eine Menge anderer Piraten oben drauf. Gerade Letztere wollen euch und eurem Schiff ans Leder.


Mehr als einmal kamen ich oder wir nach langer Fahrt entweder erst gar nicht wieder im Plündererhafen an oder wurden 10m vor der Ziellinie von einer weiteren Gruppe überfallen und um unser hart erarbeitetes Gold gebracht. Willkommen im Piratenleben, wo öfters nur der Vorteil der eigenen Mannschaft zählt. Dies ist einerseits eine Warnung, denn das Spiel ist hier realistischer, als manch einer vielleicht möchte. Auf der anderen Seite ist es gerade dieser Grad an Realität, der das Spiel glaubhaft macht. So wird es nicht lange dauern, bis man von Rambo auf klassische Zurückhaltung und Vorsicht zurückschaltet. Zudem merkt man sehr schnell, dass es sich in einer Gruppe deutlich besser und einfacher durchkämpft, als im Alleingang. Erblickt man am Horizont ein fremdes Segel, ist eine Mannschaftsbesprechung, ob der Kurs gehalten wird, angesagt. Denn ist euer Schiff bereits auf dem Heimweg mit Kisten voller Gold und Totenschädeln beladen, heißt es nur noch, das Zeug sicher zum Händler zu bringen. Andernfalls waren die letzten Stunden für den Hintern.

Gerade bei den Schwimm- und Taucheinlagen an Land oder zu versunkenen Wracks möchten Euch grimmige Haie zusätzlich das Leben rauben. Auch hier ist Teamgeist gefragt, um euer Leben zu schützen. Leider gibt es im Spiel "bisher" noch kein Beiboot, dass man zu Wasser lassen kann. Ein erster Punkt, den wir bei unseren Abenteuern als Verbesserungspunkt ausgelotet haben. Ihr müsst mit eurer Beute also immer schön zum Schiff schwimmen, was das "Parken" in der Nähe zum Ufer empfiehlt. Zurück an Land, gerade wenn es oben auf einen Berg gehen soll, kann dann per Kanone teils schneller erledigt werden. Auch das Entern eines fremden Schiff ist auf diese Weise möglich (Achievement Alarm!)


Grafisch lässt das Spiel dabei mehr als einmal die Kinnlade runter klappen, wobei man sich an die Paarung der bekannt comicartig gezeichneten Inseln & Lebewesen auf der einen Seite mit dem bisher schönsten Wasser und Himmelseffekten auf der anderen, gewöhnen muss. Gerade auf der Xbox One X, wenn diese an einem entsprechenden 4K HDR TV hängt, sieht dies umwerfend aus. Aber auch an einem FHD-TV macht, kann man sich nicht sattsehen. Nicht nur die Optik, sondern vor allem der Wellengang, von ruhigem Blau, über aufgewühltes Grau, bis hin zu schwarzen, teils riesigen Wogen, die eurer Schiff tief eintauchen lassen, ist alles dabei. Spätestens bei diesem Wetter hat jedes Mannschaftsmitglied alle Hände voll zu tun. Sollte euch euer Leben einmal verlassen, müsst ihr kurz auf einer Totengaleone auf den Respawn warten. Dieser ist aktuell "noch kostenlos". Ist Euer Kahn noch da sein, erscheint ihr wieder auf Deck, ist es gesunken, gibt es ein neues an einem anderen Ort. Wer schlau ist, rettet sein Hab und Gut noch an Land oder versucht im Wasser neben den schwimmenden Truhen so lange zu überleben, bis der Teamkamerad mit einem neuen Boot erneut ankommt. Andernfalls war der Trip umsonst.


In den verdienten Pausen in den Plündererstätten könnt ihr das erarbeitete Geld gegen neue Klamotten und andere Gegenstände, auf Wunsch auch für euer Schiff, ausgeben. Dies sind aber allesamt nur optische Veränderungen, was schnell zu Diskussionen führte, ob das reicht, sich stundenlang die Brise um die Ohren zu hauen. Neben Aufträgen für versteckte Schatztruhen oder untoten Piratenmannschaften, gibt es auf den ersten Blick keine weiteren Handlungen. So hat man bereits nach kurzer Zeit die Frage im Kopf, ob dies alles sein soll? Ok, einen Kampf gegen einen Riesenkraken gibt es auch noch. Zudem solltet ihr einmal gezielt auf eine Totenkopfwolke zusteuern, um eure Künste in einem harten Raid auf die Probe zu stellen. Wer dies übersteht, geht mit fetter Beute im fünfstelligen Bereich nach Hause. Aber ja, die Frage, die sich seit den Betatests weiter stellt, bleibt - wie lange wird man die Leute mit den bisher überschaubaren Aktionsmöglichkeiten bei der Stange halten können? Defakto macht das Spiel im Team definitiv mehr Sinn und Spaß. Allerdings gibt es hier deutliche Verbesserungsmöglichkeiten, denn gerade der Spielspaß ist variabel, je nachdem ob ihr mit Leuten spielt, die ihr kennt bzw. zumindest deren Sprache ihr sprecht, oder in eine zusammengewürfelte Gruppe von Honks vermittelt werdet.


Hier wird es euch wohl auch einmal passieren, dass die anderen für einen Aufenthalt in der Zelle unter Deck voten, sich im Anschluss davor stellen, Musik machen und euch auslachen. Zuerst war ich über dieses Verfahren sehr sauer. Im Verlauf der vielen Stunden stellte sich aber auch heraus, dass gerade hierdurch eure eventuell beigetragenen Leistungen gesichert werden. Möchte euch eine Mannschaft nämlich kurz vor dem Abliefern aus dem Spiel haben und euch so um euren Anteil bringen, ist dem ein Riegel vorgeschoben. Ihr allein entscheidet, ob ihr in der Zelle so lange ausharrt, bis die Beute verkauft ist. Gegebenenfalls haut ihr euch derweil einen Krug Rum hinter die Binde und genießt im Anschluss den Rausch. So ergeht es auch demjenigen, der eine "verfluchte Truhe" tragen muss. Zu viel ist dann auch hier zu viel und die Kotzorgie kann ihren Lauf nehmen. Wer mag, kann dies in seinem Eimer auffangen und später auf andere Piraten ausschütten - ups noch ein Erfolg. :D So wird man erst nach einiger Zeit mitbekommen, an wie vielen Punkten das Spiel und Gameplay sehr realistisch ist, und mit wie viel Liebe zum Detail RARE nicht nur in Sachen Optik gearbeitet haben. Zudem muss man positiv erwähnen, dass das Zusammenspiel zwischen Xbox- und PC-Spielern hervorragend funktioniert!


Ich gebe zu, dass ich das Spiel bis zu den Beta Tests eher stiefmütterlich betrachtet habe. Die ersten Schritte in dieser waren auch mit viel Frust verbunden. In der finalen Version habe ich alle Varianten erprobt und dabei unterschiedliche Ergebnisse mitgenommen. So sind zusammengewürfelte Mannschaften ein Glücksspiel. Mit Gleichsprachigen wird es deutlich besser. Viele Grüße dabei gen Bayern! Das volle Potenzial setzt das Spiel aber klar im Zusammenspiel mit Freunden und Bekannten frei. Vielen Dank an dieser Stelle an unserer Forenmitlgied Mattlok, mit dem ich viele Zwei-Personen-Abenteuer ablegte. Im Anschluss natürlich auch in die Rostocker play-event Besucher Ecke. Das waren geile Stunden, bei denen wir sehr viel gelacht haben. In dieser traten auch gute Vorschläge zu Tage, wie man das Spielerlebnis zukünftig steigern könnte. Neben dem Wunsch nach einer Regionsabfrage bei der Zuteilung neuer Spieler kam das Ersuchen nach gezieltem Nachholen von Freunden zum Auffüllen einer reduzierten Mannschaft hinzu. Zudem wäre eine kleine Hilfestellung, wo sich Kameraden auf einer Insel gerade aufhalten manchmal wünschenswert. Auf der anderen Seite zwingt einen das Spiel genau an diesen Punkten zu viel Teamkommunikation, da euch der Mitspieler lediglich über Kompassangaben zu sich lotsen kann.


Sea of Thieves hinterlässt nach knapp 20h Erprobung weiterhin gemischte Gefühle. Mann muss sich auf einige Gegebenheiten, wie den doch hohen Grad an Realismus klar einlassen. Gerade der Unterschied zwischen dem Steuern einer Schaluppe und einer großen Galeone ist gewaltig. Zu viel Übermut wird wie im wahren Leben bestraft und so ist der Zusammenhalt des Teams das A und O! Die Grafik, allem voran das Wasser und die Wellen sind eine Wucht. Auf der Gegenseite stehen aktuell noch überschaubare Aufgaben, die sich schnell wiederholen und die rein optische Aufwertung eures Charakters oder Schiffs. Das ist für die harte Arbeit auf See bisher etwas dünn. Auch kann eine Session definitiv voll in die Hose gehen, wenn man auf die falsche Mannschaft trifft oder Piraten begegnet, die sich einen Spaß daraus machen, euch beim Respawn sofort wieder ins Jenseits zu befördern. Gewünscht wurde in puncto Klamotten auch, dass man die Veränderungen bei Anprobe an sich dargestellt bekommt. Und sei es ein Spiegel, in dem man sich derweil betrachten kann. So bleibt weiterhin die Frage offen, wie man die Spieler zeitnah mit neuen Dingen und Möglichkeiten bei der Stange halten will. Aktuell dürfte der neue Reiz, trotz des frischen Gameplay relativ schnell befriedigt sein, gerade im Hinblick auf die vielen anderen Angebote auf dem Videospielmarkt. Hinzu kommt die Einschränkung, dass es sich um ein reines Online MMO handelt und somit viele Single Player Fans größtenteils außen vor sind.

/media/cache/nexgam/games/Xbox_One_ps4/S/Sea_of_Theaves/Sea-of-Thieves-neXGam-00.jpg

Sea-of-Thieves-neXGam-00.jpg

Sea-of-Thieves-neXGam-00

Sea-of-Thieves-neXGam-00

Sea-of-Thieves-neXGam-00

/media/cache/nexgam/games/Xbox_One_ps4/S/Sea_of_Theaves/Sea-of-Thieves-neXGam-01.jpg

Sea-of-Thieves-neXGam-01.jpg

Sea-of-Thieves-neXGam-01

Sea-of-Thieves-neXGam-01

Sea-of-Thieves-neXGam-01

/media/cache/nexgam/games/Xbox_One_ps4/S/Sea_of_Theaves/Sea-of-Thieves-neXGam-02.jpg

Sea-of-Thieves-neXGam-02.jpg

Sea-of-Thieves-neXGam-02

Sea-of-Thieves-neXGam-02

Sea-of-Thieves-neXGam-02

/media/cache/nexgam/games/Xbox_One_ps4/S/Sea_of_Theaves/Sea-of-Thieves-neXGam-03.jpg

Sea-of-Thieves-neXGam-03.jpg

Sea-of-Thieves-neXGam-03

Sea-of-Thieves-neXGam-03

Sea-of-Thieves-neXGam-03

/media/cache/nexgam/games/Xbox_One_ps4/S/Sea_of_Theaves/Sea-of-Thieves-neXGam-04.jpg

Sea-of-Thieves-neXGam-04.jpg

Sea-of-Thieves-neXGam-04

Sea-of-Thieves-neXGam-04

Sea-of-Thieves-neXGam-04

/media/cache/nexgam/games/Xbox_One_ps4/S/Sea_of_Theaves/Sea-of-Thieves-neXGam-05.jpg

Sea-of-Thieves-neXGam-05.jpg

Sea-of-Thieves-neXGam-05

Sea-of-Thieves-neXGam-05

Sea-of-Thieves-neXGam-05

/media/cache/nexgam/games/Xbox_One_ps4/S/Sea_of_Theaves/Sea-of-Thieves-neXGam-06.jpg

Sea-of-Thieves-neXGam-06.jpg

Sea-of-Thieves-neXGam-06

Sea-of-Thieves-neXGam-06

Sea-of-Thieves-neXGam-06

/media/cache/nexgam/games/Xbox_One_ps4/S/Sea_of_Theaves/Sea-of-Thieves-neXGam-07.jpg

Sea-of-Thieves-neXGam-07.jpg

Sea-of-Thieves-neXGam-07

Sea-of-Thieves-neXGam-07

Sea-of-Thieves-neXGam-07

/media/cache/nexgam/games/Xbox_One_ps4/S/Sea_of_Theaves/Sea-of-Thieves-neXGam-08.jpg

Sea-of-Thieves-neXGam-08.jpg

Sea-of-Thieves-neXGam-08

Sea-of-Thieves-neXGam-08

Sea-of-Thieves-neXGam-08

/media/cache/nexgam/games/Xbox_One_ps4/S/Sea_of_Theaves/Sea-of-Thieves-neXGam-09.jpg

Sea-of-Thieves-neXGam-09.jpg

Sea-of-Thieves-neXGam-09

Sea-of-Thieves-neXGam-09

Sea-of-Thieves-neXGam-09

/media/cache/nexgam/games/Xbox_One_ps4/S/Sea_of_Theaves/Sea-of-Thieves-neXGam-10.jpg

Sea-of-Thieves-neXGam-10.jpg

Sea-of-Thieves-neXGam-10

Sea-of-Thieves-neXGam-10

Sea-of-Thieves-neXGam-10

/media/cache/nexgam/games/Xbox_One_ps4/S/Sea_of_Theaves/Sea-of-Thieves-neXGam-11.jpg

Sea-of-Thieves-neXGam-11.jpg

Sea-of-Thieves-neXGam-11

Sea-of-Thieves-neXGam-11

Sea-of-Thieves-neXGam-11

/media/cache/nexgam/games/Xbox_One_ps4/S/Sea_of_Theaves/Sea-of-Thieves-neXGam-12.jpg

Sea-of-Thieves-neXGam-12.jpg

Sea-of-Thieves-neXGam-12

Sea-of-Thieves-neXGam-12

Sea-of-Thieves-neXGam-12

/media/cache/nexgam/games/Xbox_One_ps4/S/Sea_of_Theaves/Sea-of-Thieves-neXGam-13.jpg

Sea-of-Thieves-neXGam-13.jpg

Sea-of-Thieves-neXGam-13

Sea-of-Thieves-neXGam-13

Sea-of-Thieves-neXGam-13

/media/cache/nexgam/games/Xbox_One_ps4/S/Sea_of_Theaves/Sea-of-Thieves-neXGam-14.jpg

Sea-of-Thieves-neXGam-14.jpg

Sea-of-Thieves-neXGam-14

Sea-of-Thieves-neXGam-14

Sea-of-Thieves-neXGam-14

/media/cache/nexgam/games/Xbox_One_ps4/S/Sea_of_Theaves/Sea-of-Thieves-neXGam-15.jpg

Sea-of-Thieves-neXGam-15.jpg

Sea-of-Thieves-neXGam-15

Sea-of-Thieves-neXGam-15

Sea-of-Thieves-neXGam-15

/media/cache/nexgam/games/Xbox_One_ps4/S/Sea_of_Theaves/Sea-of-Thieves-neXGam-16.jpg

Sea-of-Thieves-neXGam-16.jpg

Sea-of-Thieves-neXGam-16

Sea-of-Thieves-neXGam-16

Sea-of-Thieves-neXGam-16

/media/cache/nexgam/games/Xbox_One_ps4/S/Sea_of_Theaves/Sea-of-Thieves-neXGam-17.jpg

Sea-of-Thieves-neXGam-17.jpg

Sea-of-Thieves-neXGam-17

Sea-of-Thieves-neXGam-17

Sea-of-Thieves-neXGam-17

/media/cache/nexgam/games/Xbox_One_ps4/S/Sea_of_Theaves/Sea-of-Thieves-neXGam-18.jpg

Sea-of-Thieves-neXGam-18.jpg

Sea-of-Thieves-neXGam-18

Sea-of-Thieves-neXGam-18

Sea-of-Thieves-neXGam-18

/media/cache/nexgam/games/Xbox_One_ps4/S/Sea_of_Theaves/Sea-of-Thieves-neXGam-19.jpg

Sea-of-Thieves-neXGam-19.jpg

Sea-of-Thieves-neXGam-19

Sea-of-Thieves-neXGam-19

Sea-of-Thieves-neXGam-19

/media/cache/nexgam/games/Xbox_One_ps4/S/Sea_of_Theaves/Sea-of-Thieves-neXGam-20.jpg

Sea-of-Thieves-neXGam-20.jpg

Sea-of-Thieves-neXGam-20

Sea-of-Thieves-neXGam-20

Sea-of-Thieves-neXGam-20

/media/cache/nexgam/games/Xbox_One_ps4/S/Sea_of_Theaves/Sea-of-Thieves-neXGam-21.jpg

Sea-of-Thieves-neXGam-21.jpg

Sea-of-Thieves-neXGam-21

Sea-of-Thieves-neXGam-21

Sea-of-Thieves-neXGam-21

/media/cache/nexgam/games/Xbox_One_ps4/S/Sea_of_Theaves/Sea-of-Thieves-neXGam-22.jpg

Sea-of-Thieves-neXGam-22.jpg

Sea-of-Thieves-neXGam-22

Sea-of-Thieves-neXGam-22

Sea-of-Thieves-neXGam-22

/media/cache/nexgam/games/Xbox_One_ps4/S/Sea_of_Theaves/Sea-of-Thieves-neXGam-23.jpg

Sea-of-Thieves-neXGam-23.jpg

Sea-of-Thieves-neXGam-23

Sea-of-Thieves-neXGam-23

Sea-of-Thieves-neXGam-23

/media/cache/nexgam/games/Xbox_One_ps4/S/Sea_of_Theaves/Sea-of-Thieves-neXGam-24.jpg

Sea-of-Thieves-neXGam-24.jpg

Sea-of-Thieves-neXGam-24

Sea-of-Thieves-neXGam-24

Sea-of-Thieves-neXGam-24

/media/cache/nexgam/games/Xbox_One_ps4/S/Sea_of_Theaves/Sea-of-Thieves-neXGam-25.jpg

Sea-of-Thieves-neXGam-25.jpg

Sea-of-Thieves-neXGam-25

Sea-of-Thieves-neXGam-25

Sea-of-Thieves-neXGam-25

/media/cache/nexgam/games/Xbox_One_ps4/S/Sea_of_Theaves/Sea-of-Thieves-neXGam-26.jpg

Sea-of-Thieves-neXGam-26.jpg

Sea-of-Thieves-neXGam-26

Sea-of-Thieves-neXGam-26

Sea-of-Thieves-neXGam-26

/media/cache/nexgam/games/Xbox_One_ps4/S/Sea_of_Theaves/Sea-of-Thieves-neXGam-27.jpg

Sea-of-Thieves-neXGam-27.jpg

Sea-of-Thieves-neXGam-27

Sea-of-Thieves-neXGam-27

Sea-of-Thieves-neXGam-27

/media/cache/nexgam/games/Xbox_One_ps4/S/Sea_of_Theaves/Sea-of-Thieves-neXGam-28.jpg

Sea-of-Thieves-neXGam-28.jpg

Sea-of-Thieves-neXGam-28

Sea-of-Thieves-neXGam-28

Sea-of-Thieves-neXGam-28

/media/cache/nexgam/games/Xbox_One_ps4/S/Sea_of_Theaves/Sea-of-Thieves-neXGam-29.jpg

Sea-of-Thieves-neXGam-29.jpg

Sea-of-Thieves-neXGam-29

Sea-of-Thieves-neXGam-29

Sea-of-Thieves-neXGam-29

/media/cache/nexgam/games/Xbox_One_ps4/S/Sea_of_Theaves/Sea-of-Thieves-neXGam-30.jpg

Sea-of-Thieves-neXGam-30.jpg

Sea-of-Thieves-neXGam-30

Sea-of-Thieves-neXGam-30

Sea-of-Thieves-neXGam-30

/media/cache/nexgam/games/Xbox_One_ps4/S/Sea_of_Theaves/Sea-of-Thieves-neXGam-31.jpg

Sea-of-Thieves-neXGam-31.jpg

Sea-of-Thieves-neXGam-31

Sea-of-Thieves-neXGam-31

Sea-of-Thieves-neXGam-31

/media/cache/nexgam/games/Xbox_One_ps4/S/Sea_of_Theaves/Sea-of-Thieves-neXGam-32.jpg

Sea-of-Thieves-neXGam-32.jpg

Sea-of-Thieves-neXGam-32

Sea-of-Thieves-neXGam-32

Sea-of-Thieves-neXGam-32

/media/cache/nexgam/games/Xbox_One_ps4/S/Sea_of_Theaves/Sea-of-Thieves-neXGam-33.jpg

Sea-of-Thieves-neXGam-33.jpg

Sea-of-Thieves-neXGam-33

Sea-of-Thieves-neXGam-33

Sea-of-Thieves-neXGam-33

/media/cache/nexgam/games/Xbox_One_ps4/S/Sea_of_Theaves/Sea-of-Thieves-neXGam-34.jpg

Sea-of-Thieves-neXGam-34.jpg

Sea-of-Thieves-neXGam-34

Sea-of-Thieves-neXGam-34

Sea-of-Thieves-neXGam-34

/media/cache/nexgam/games/Xbox_One_ps4/S/Sea_of_Theaves/Sea-of-Thieves-neXGam-35.jpg

Sea-of-Thieves-neXGam-35.jpg

Sea-of-Thieves-neXGam-35

Sea-of-Thieves-neXGam-35

Sea-of-Thieves-neXGam-35

/media/cache/nexgam/games/Xbox_One_ps4/S/Sea_of_Theaves/Sea-of-Thieves-neXGam-36.jpg

Sea-of-Thieves-neXGam-36.jpg

Sea-of-Thieves-neXGam-36

Sea-of-Thieves-neXGam-36

Sea-of-Thieves-neXGam-36

/media/cache/nexgam/games/Xbox_One_ps4/S/Sea_of_Theaves/Sea-of-Thieves-neXGam-37.jpg

Sea-of-Thieves-neXGam-37.jpg

Sea-of-Thieves-neXGam-37

Sea-of-Thieves-neXGam-37

Sea-of-Thieves-neXGam-37

/media/cache/nexgam/games/Xbox_One_ps4/S/Sea_of_Theaves/Sea-of-Thieves-neXGam-38.jpg

Sea-of-Thieves-neXGam-38.jpg

Sea-of-Thieves-neXGam-38

Sea-of-Thieves-neXGam-38

Sea-of-Thieves-neXGam-38

/media/cache/nexgam/games/Xbox_One_ps4/S/Sea_of_Theaves/Sea-of-Thieves-neXGam-39.jpg

Sea-of-Thieves-neXGam-39.jpg

Sea-of-Thieves-neXGam-39

Sea-of-Thieves-neXGam-39

Sea-of-Thieves-neXGam-39

/media/cache/nexgam/games/Xbox_One_ps4/S/Sea_of_Theaves/Sea-of-Thieves-neXGam-40.jpg

Sea-of-Thieves-neXGam-40.jpg

Sea-of-Thieves-neXGam-40

Sea-of-Thieves-neXGam-40

Sea-of-Thieves-neXGam-40

/media/cache/nexgam/games/Xbox_One_ps4/S/Sea_of_Theaves/Sea-of-Thieves-neXGam-41.jpg

Sea-of-Thieves-neXGam-41.jpg

Sea-of-Thieves-neXGam-41

Sea-of-Thieves-neXGam-41

Sea-of-Thieves-neXGam-41

/media/cache/nexgam/games/Xbox_One_ps4/S/Sea_of_Theaves/Sea-of-Thieves-neXGam-42.jpg

Sea-of-Thieves-neXGam-42.jpg

Sea-of-Thieves-neXGam-42

Sea-of-Thieves-neXGam-42

Sea-of-Thieves-neXGam-42

/media/cache/nexgam/games/Xbox_One_ps4/S/Sea_of_Theaves/Sea-of-Thieves-neXGam-43.jpg

Sea-of-Thieves-neXGam-43.jpg

Sea-of-Thieves-neXGam-43

Sea-of-Thieves-neXGam-43

Sea-of-Thieves-neXGam-43

/media/cache/nexgam/games/Xbox_One_ps4/S/Sea_of_Theaves/Sea-of-Thieves-neXGam-44.jpg

Sea-of-Thieves-neXGam-44.jpg

Sea-of-Thieves-neXGam-44

Sea-of-Thieves-neXGam-44

Sea-of-Thieves-neXGam-44

/media/cache/nexgam/games/Xbox_One_ps4/S/Sea_of_Theaves/Sea-of-Thieves-neXGam-45.jpg

Sea-of-Thieves-neXGam-45.jpg

Sea-of-Thieves-neXGam-45

Sea-of-Thieves-neXGam-45

Sea-of-Thieves-neXGam-45

/media/cache/nexgam/games/Xbox_One_ps4/S/Sea_of_Theaves/Sea-of-Thieves-neXGam-46.jpg

Sea-of-Thieves-neXGam-46.jpg

Sea-of-Thieves-neXGam-46

Sea-of-Thieves-neXGam-46

Sea-of-Thieves-neXGam-46

/media/cache/nexgam/games/Xbox_One_ps4/S/Sea_of_Theaves/Sea-of-Thieves-neXGam-47.jpg

Sea-of-Thieves-neXGam-47.jpg

Sea-of-Thieves-neXGam-47

Sea-of-Thieves-neXGam-47

Sea-of-Thieves-neXGam-47

/media/cache/nexgam/games/Xbox_One_ps4/S/Sea_of_Theaves/Sea-of-Thieves-neXGam-48.jpg

Sea-of-Thieves-neXGam-48.jpg

Sea-of-Thieves-neXGam-48

Sea-of-Thieves-neXGam-48

Sea-of-Thieves-neXGam-48

/media/cache/nexgam/games/Xbox_One_ps4/S/Sea_of_Theaves/Sea-of-Thieves-neXGam-49.jpg

Sea-of-Thieves-neXGam-49.jpg

Sea-of-Thieves-neXGam-49

Sea-of-Thieves-neXGam-49

Sea-of-Thieves-neXGam-49

/media/cache/nexgam/games/Xbox_One_ps4/S/Sea_of_Theaves/Sea-of-Thieves-neXGam-50.jpg

Sea-of-Thieves-neXGam-50.jpg

Sea-of-Thieves-neXGam-50

Sea-of-Thieves-neXGam-50

Sea-of-Thieves-neXGam-50

/media/cache/nexgam/games/Xbox_One_ps4/S/Sea_of_Theaves/Sea-of-Thieves-neXGam-51.jpg

Sea-of-Thieves-neXGam-51.jpg

Sea-of-Thieves-neXGam-51

Sea-of-Thieves-neXGam-51

Sea-of-Thieves-neXGam-51

/media/cache/nexgam/games/Xbox_One_ps4/S/Sea_of_Theaves/Sea-of-Thieves-neXGam-52.jpg

Sea-of-Thieves-neXGam-52.jpg

Sea-of-Thieves-neXGam-52

Sea-of-Thieves-neXGam-52

Sea-of-Thieves-neXGam-52

/media/cache/nexgam/games/Xbox_One_ps4/S/Sea_of_Theaves/Sea-of-Thieves-neXGam-53.jpg

Sea-of-Thieves-neXGam-53.jpg

Sea-of-Thieves-neXGam-53

Sea-of-Thieves-neXGam-53

Sea-of-Thieves-neXGam-53

/media/cache/nexgam/games/Xbox_One_ps4/S/Sea_of_Theaves/Sea-of-Thieves-neXGam-54.jpg

Sea-of-Thieves-neXGam-54.jpg

Sea-of-Thieves-neXGam-54

Sea-of-Thieves-neXGam-54

Sea-of-Thieves-neXGam-54

/media/cache/nexgam/games/Xbox_One_ps4/S/Sea_of_Theaves/Sea-of-Thieves-neXGam-55.jpg

Sea-of-Thieves-neXGam-55.jpg

Sea-of-Thieves-neXGam-55

Sea-of-Thieves-neXGam-55

Sea-of-Thieves-neXGam-55

/media/cache/nexgam/games/Xbox_One_ps4/S/Sea_of_Theaves/Sea-of-Thieves-neXGam-56.jpg

Sea-of-Thieves-neXGam-56.jpg

Sea-of-Thieves-neXGam-56

Sea-of-Thieves-neXGam-56

Sea-of-Thieves-neXGam-56

/media/cache/nexgam/games/Xbox_One_ps4/S/Sea_of_Theaves/Sea-of-Thieves-neXGam-58.jpg

Sea-of-Thieves-neXGam-58.jpg

Sea-of-Thieves-neXGam-58

Sea-of-Thieves-neXGam-58

Sea-of-Thieves-neXGam-58

/media/cache/nexgam/games/Xbox_One_ps4/S/Sea_of_Theaves/Sea-of-Thieves-neXGam-60.jpg

Sea-of-Thieves-neXGam-60.jpg

Sea-of-Thieves-neXGam-60

Sea-of-Thieves-neXGam-60

Sea-of-Thieves-neXGam-60

/media/cache/nexgam/games/Xbox_One_ps4/S/Sea_of_Theaves/Sea-of-Thieves-neXGam-62.jpg

Sea-of-Thieves-neXGam-62.jpg

Sea-of-Thieves-neXGam-62

Sea-of-Thieves-neXGam-62

Sea-of-Thieves-neXGam-62

/media/cache/nexgam/games/Xbox_One_ps4/S/Sea_of_Theaves/Sea-of-Thieves-neXGam-63.jpg

Sea-of-Thieves-neXGam-63.jpg

Sea-of-Thieves-neXGam-63

Sea-of-Thieves-neXGam-63

Sea-of-Thieves-neXGam-63

/media/cache/nexgam/games/Xbox_One_ps4/S/Sea_of_Theaves/Sea-of-Thieves-neXGam-64.jpg

Sea-of-Thieves-neXGam-64.jpg

Sea-of-Thieves-neXGam-64

Sea-of-Thieves-neXGam-64

Sea-of-Thieves-neXGam-64

/media/cache/nexgam/games/Xbox_One_ps4/S/Sea_of_Theaves/Sea-of-Thieves-neXGam-65.jpg

Sea-of-Thieves-neXGam-65.jpg

Sea-of-Thieves-neXGam-65

Sea-of-Thieves-neXGam-65

Sea-of-Thieves-neXGam-65

/media/cache/nexgam/games/Xbox_One_ps4/S/Sea_of_Theaves/Sea-of-Thieves-neXGam-66.jpg

Sea-of-Thieves-neXGam-66.jpg

Sea-of-Thieves-neXGam-66

Sea-of-Thieves-neXGam-66

Sea-of-Thieves-neXGam-66

/media/cache/nexgam/games/Xbox_One_ps4/S/Sea_of_Theaves/Sea-of-Thieves-neXGam-68.jpg

Sea-of-Thieves-neXGam-68.jpg

Sea-of-Thieves-neXGam-68

Sea-of-Thieves-neXGam-68

Sea-of-Thieves-neXGam-68

/media/cache/nexgam/games/Xbox_One_ps4/S/Sea_of_Theaves/Sea-of-Thieves-neXGam-69.jpg

Sea-of-Thieves-neXGam-69.jpg

Sea-of-Thieves-neXGam-69

Sea-of-Thieves-neXGam-69

Sea-of-Thieves-neXGam-69

/media/cache/nexgam/games/Xbox_One_ps4/S/Sea_of_Theaves/Sea-of-Thieves-neXGam-70.jpg

Sea-of-Thieves-neXGam-70.jpg

Sea-of-Thieves-neXGam-70

Sea-of-Thieves-neXGam-70

Sea-of-Thieves-neXGam-70

/media/cache/nexgam/games/Xbox_One_ps4/S/Sea_of_Theaves/Sea-of-Thieves-neXGam-71.jpg

Sea-of-Thieves-neXGam-71.jpg

Sea-of-Thieves-neXGam-71

Sea-of-Thieves-neXGam-71

Sea-of-Thieves-neXGam-71

/media/cache/nexgam/games/Xbox_One_ps4/S/Sea_of_Theaves/Sea-of-Thieves-neXGam-72.jpg

Sea-of-Thieves-neXGam-72.jpg

Sea-of-Thieves-neXGam-72

Sea-of-Thieves-neXGam-72

Sea-of-Thieves-neXGam-72

/media/cache/nexgam/games/Xbox_One_ps4/S/Sea_of_Theaves/Sea-of-Thieves-neXGam-73.jpg

Sea-of-Thieves-neXGam-73.jpg

Sea-of-Thieves-neXGam-73

Sea-of-Thieves-neXGam-73

Sea-of-Thieves-neXGam-73

/media/cache/nexgam/games/Xbox_One_ps4/S/Sea_of_Theaves/Sea-of-Thieves-neXGam-74.jpg

Sea-of-Thieves-neXGam-74.jpg

Sea-of-Thieves-neXGam-74

Sea-of-Thieves-neXGam-74

Sea-of-Thieves-neXGam-74

/media/cache/nexgam/games/Xbox_One_ps4/S/Sea_of_Theaves/Sea-of-Thieves-neXGam-75.jpg

Sea-of-Thieves-neXGam-75.jpg

Sea-of-Thieves-neXGam-75

Sea-of-Thieves-neXGam-75

Sea-of-Thieves-neXGam-75

/media/cache/nexgam/games/Xbox_One_ps4/S/Sea_of_Theaves/Sea-of-Thieves-neXGam-76.jpg

Sea-of-Thieves-neXGam-76.jpg

Sea-of-Thieves-neXGam-76

Sea-of-Thieves-neXGam-76

Sea-of-Thieves-neXGam-76

/media/cache/nexgam/games/Xbox_One_ps4/S/Sea_of_Theaves/Sea-of-Thieves-neXGam-77.jpg

Sea-of-Thieves-neXGam-77.jpg

Sea-of-Thieves-neXGam-77

Sea-of-Thieves-neXGam-77

Sea-of-Thieves-neXGam-77

/media/cache/nexgam/games/Xbox_One_ps4/S/Sea_of_Theaves/Sea-of-Thieves-neXGam-78.jpg

Sea-of-Thieves-neXGam-78.jpg

Sea-of-Thieves-neXGam-78

Sea-of-Thieves-neXGam-78

Sea-of-Thieves-neXGam-78

/media/cache/nexgam/games/Xbox_One_ps4/S/Sea_of_Theaves/Sea-of-Thieves-neXGam-79.jpg

Sea-of-Thieves-neXGam-79.jpg

Sea-of-Thieves-neXGam-79

Sea-of-Thieves-neXGam-79

Sea-of-Thieves-neXGam-79

/media/cache/nexgam/games/Xbox_One_ps4/S/Sea_of_Theaves/Sea-of-Thieves-neXGam-80.jpg

Sea-of-Thieves-neXGam-80.jpg

Sea-of-Thieves-neXGam-80

Sea-of-Thieves-neXGam-80

Sea-of-Thieves-neXGam-80

/media/cache/nexgam/games/Xbox_One_ps4/S/Sea_of_Theaves/Sea-of-Thieves-neXGam-81.jpg

Sea-of-Thieves-neXGam-81.jpg

Sea-of-Thieves-neXGam-81

Sea-of-Thieves-neXGam-81

Sea-of-Thieves-neXGam-81

/media/cache/nexgam/games/Xbox_One_ps4/S/Sea_of_Theaves/Sea-of-Thieves-neXGam-82.jpg

Sea-of-Thieves-neXGam-82.jpg

Sea-of-Thieves-neXGam-82

Sea-of-Thieves-neXGam-82

Sea-of-Thieves-neXGam-82

/media/cache/nexgam/games/Xbox_One_ps4/S/Sea_of_Theaves/Sea-of-Thieves-neXGam-84.jpg

Sea-of-Thieves-neXGam-84.jpg

Sea-of-Thieves-neXGam-84

Sea-of-Thieves-neXGam-84

Sea-of-Thieves-neXGam-84

/media/cache/nexgam/games/Xbox_One_ps4/S/Sea_of_Theaves/Sea-of-Thieves-neXGam-85.jpg

Sea-of-Thieves-neXGam-85.jpg

Sea-of-Thieves-neXGam-85

Sea-of-Thieves-neXGam-85

Sea-of-Thieves-neXGam-85

/media/cache/nexgam/games/Xbox_One_ps4/S/Sea_of_Theaves/Sea-of-Thieves-neXGam-86.jpg

Sea-of-Thieves-neXGam-86.jpg

Sea-of-Thieves-neXGam-86

Sea-of-Thieves-neXGam-86

Sea-of-Thieves-neXGam-86
von Civilisation:

Auf der diesjährigen E3 wurden zwei DLCs für das Spiel angekündigt. Wir haben Bilder aus dem Trailer für euch.

von bbstevieb:

Das neue Update soll wohl ein "Schritt in die richtige Richtung" sein...tja leider >2 Monate nach Release. eurogamer.net/articles/2018-06…ep-in-the-right-direction...

von Mistercinema:

Ja, könnten sie, aber es gibt immer noch keine klare Aussage, wann was kommt.... - leider
Insgesamt 138 Beiträge, diskutiere mit